Guimaras turns over P1.5-M worth of farm equipment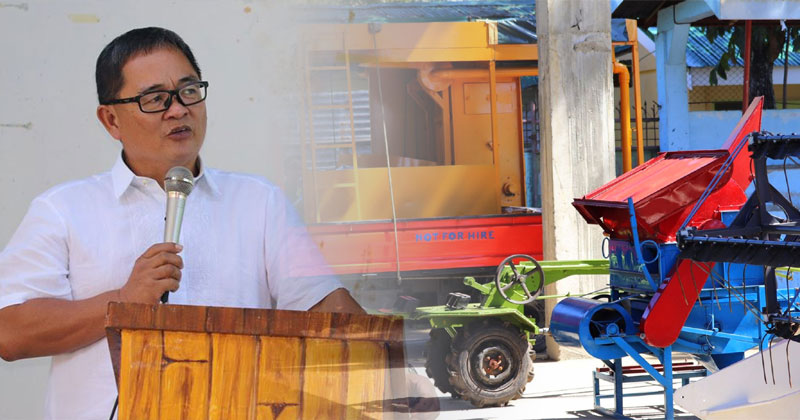 Guimaras gave over P1.5 million worth of equipment to farmers
The Provincial Government of Guimaras has turned over P1.5 Million worth of farm equipment to registered farmers in the Municipality of Buenavista.
The turnover ceremony was facilitated by the Provincial Office for Agricultural Services (POAS) at the Barangay Navalas Plaza in the Municipality of Buenavista on January 6, 2020.
One combine harvester was given to registered and viable farmers of Getulio – San Miguel – Navalas Farmers Association who has the capacity to operate and manage the equipment in consideration of their current farm ecosystem and farm landscape are adaptable for its operation.
Governor Samuel T. Gumarin who led the turnover ceremony said that the provincial government will sustain its constant efforts to continually improve the quality of life of every Guimarasnons through its numerous implemented projects.
"Damu pa nga mga proyekto ang iga-implementar naton para masige-sige ang pag-improbar sang aton probinsiya. Ang ini nga mga proyekto daku gid nga bulig para aton pumuluyo nga nagakinahanglan sang aton nga bulig. Gani magbululigay kina tanan para sa pag-asenso indi lang sang aton tagsa-tagsa nga kabuhi kundi para sa tanan nga Guimarasnon," he said.
Further, Vice Governor John Edward G. Gando encouraged the government officials and the people of Guimaras to unite for the betterment of the province.
"Ang ini nga combine harvester kag ang iban pa nga mga igadulot sang gobyerno probinsiyal, isi ini sa resulta kag produkto sang mga opisyales nga nagahugpong kag naga-isa para sa kaayuhan sang aton mga pumuluyo. Padayunon naton ang aton pagsuporta sa aton probinsiya para sa kaayuhan sang tanan sini nga pumuluyo," he stated.
The provision of farm equipment was in line with the 6th State of the Province Address of Governor Gumarin which is to provide combine harvester to the remaining municipalities and hand tractors to all farmers association in partnership with the Department of Agriculture.
Moreover, Mr. Ronnie D. Morante, Provincial Agriculturist briefed the beneficiaries of the project title background and management.
At present, the Municipality of San Lorenzo already has one unit of combine harvester from the DA Regional Field Office VI and one unit will be given also by the province to the Municipality of Sibunag.