Gifting local this Christmas with Kultura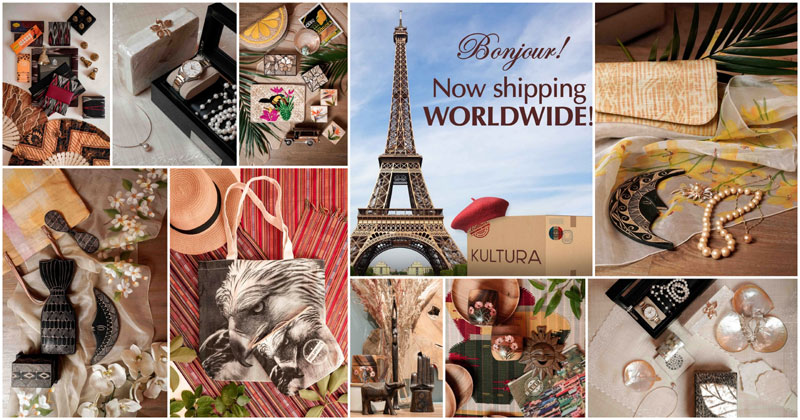 Bring the heritage, artistry, and taste of the different regions of the Philippines to family and friends with gifts from the heart from Kultura.
At a time when most of us are relatively homebound, these curated and artisanal gifts take you on a virtual road trip to your favorite cities in the Philippines which you hope to visit during better times. Send these to your loved ones abroad who long to be home for Christmas, to friends who wish to add a homespun touch to their home office, or to foreign business associates who want to know more about our country.
There are woven wonders and handcrafted woodworks from beautiful Baguio exquisite South Sea pearls, handwoven pina silk bags and scarves, and decorative etched wood carvings that highlight pristine beauty of Palawan gifts from the sea from Cebu, the Queen City of the South and T'boli brass accessories, Ikat designed pieces and world-class chocolates from Davao.
Now shipping worldwide – check out www.kulturafilipino.com for all things uniquely Filipino holiday gifts and have it delivered here and abroad conveniently.
IN PHOTOS:
1. This holiday season, give family and friends all things uniquely Filipino with curated and artisanal pieces from Kultura. Visit www.kulturafilipino.com and send love to your family and friends here and abroad as Kultura now ships worldwide.
2. Gifts from the sea and the forests: lustrous pearls, elegant minaudiere with a gold spun floral clasp, and a wooden watch box.
3. Celebrate Cebu's rich culture with world-class dried mangoes, woven bags with whimsical designs bags and mother of pearl and capiz décor.
4. Missing your family trips to the City of Pines? Bring those memories back with these beautiful wooden pieces, hand carved by talented local artisans of Baguio.
5. Finds from Baguio: Cordillera inspired tapestry, acacia wood cups and plates, and a colorful souvenir pouch.
6. T'boli Brass home accents, Ikat pieces and chocolates made of world's famous Cacao celebrate the best of Davao's culture and cuisine.
7. Philippine Eagle designed tote and pouch from Davao.
8. Pina silk clutch bag and scarf, timeless South Sea pearls and decorative etched wood carvings from Palawan.
9. Missing Puerto Princesa, El Nido and the pristine beauty of Palawan? Take home these rustic wooden carvings and elegant pina silk scarves.
10. Kultura Filipino's online shop is now live and is now shipping worldwide. Visit www.kulturafilipino.com for uniquely Filipino holiday gift ideas.