DA exec urges youth to go into agribusiness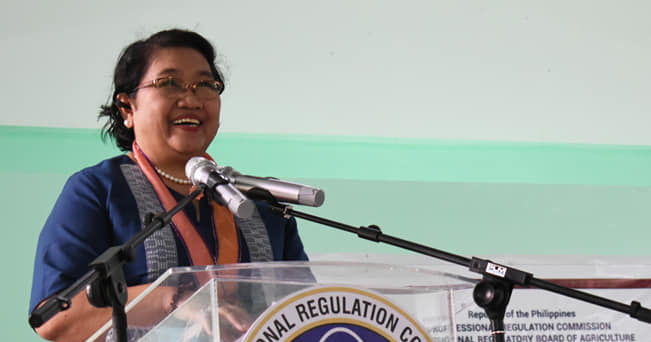 DA-6 Director Recoter led the mass oathtaking of licensed agriculturists at University of Antique-Hamtic.

Recoter urged these new grads to go into agribusiness to help address the aging population of farmers.
Regional Executive Director Remelyn R. Recoter of the Department of Agriculture (DA) Western Visayas told the 270 newly licensed agriculturists of the region to explore agribusiness potentials during the mass oath-taking held at the University of Antique- Hamtic Campus, Feb. 17.
"We have programs intended for the youths especially to the new graduates of agriculture and other related courses. This is to solve one of the main problems in the sector and that is the aging population of farmers," she said.
According to Director Recoter, 57 is the average age of Filipino farmers. Thus, DA devised new programs that would encourage the youths to go into agriculture and fishery studies.
DA Secretary William Dar has recently launched the Kapital Access for Young Agripreneurs or the KAYA Program. Through the Agricultural Credit Policy Council, DA will provide up to P500,000.00 capital access to fresh agriculture graduates.
"The KAYA program is for those who have business acumen. You can avail of this loan without interest and is payable in five years. You can develop and commercialize your [college] thesis as a start-up agribusiness project," Director Recoter told.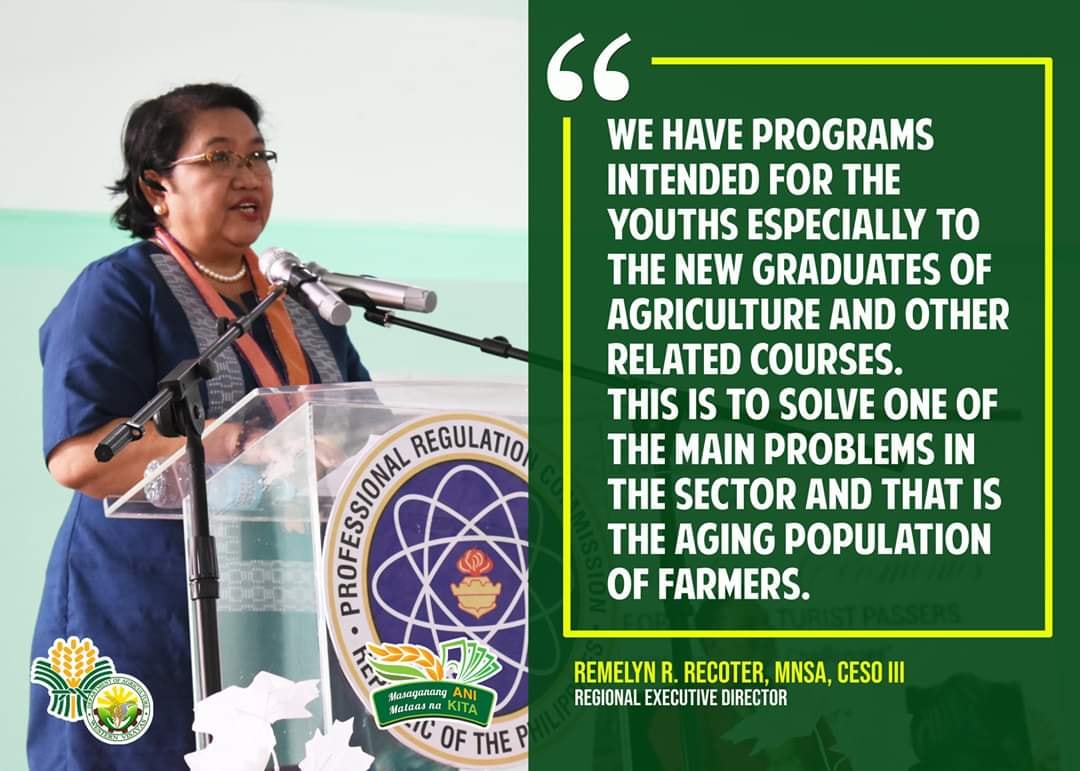 On the other hand, DA also offers Agribusiness Loan program up to P15 million for those youths who have already started their micro and small enterprises.
Director Recoter also mentioned about the Agribusiness Incubation Program that will provide youths with a P500,000.00 grant if they could come up with innovative ideas to promote development in agribusiness.
The DA executive assured the youths that the agency will soon hold an intensive campaign on the said programs.
The newly licensed agriculturists may opt to apply for a government institution, private sector, to work abroad as agriculturists, or to embark on agripreneurship.
"With these developments, we are hoping that you will be encouraged to embark on a potential agribusiness venture so that in three years you will be able to generate employment to your communities," Director Recoter underscored.
Amid the dwindling number of takers of agriculture courses, Director Recoter lauded the newly passed licensed agriculturists who would soon take part in attaining the vision of a food-secure Philippines with prosperous farmers and fishers.
"I would like the 270 of you to become parents of the twin battle cry of DA—Ani at Kita," said Director Recoter who also cited the eight paradigm shifts of the agency under the banner of Secretary Dar.
The development framework dubbed as the "New Thinking for Agriculture" centers on modernization, industrialization, export promotion, farm consolidation, infrastructure development, roadmap development, higher budget and more investments, and legislative support to farmers.
"Starting today, you are instruments of the Philippine government to end hunger. I would like to commend the UA Hamtic Campus and the Professional Regulatory Commission (PRC) for the initiative of gathering these agriculturists," said Pablo S. Crespo, UA President.
PRC OIC-Regional Director Rommel Balisang administered the mass oath-taking of the newly licensed agriculturists—the first time to be held in Western Visayas.
Out of 13,492 examiners, only 5,538 agriculture graduates had passed the November 2019 examination.
"Please be mindful that your professional license will not only give you great opportunities and rewards but also challenges in the field of discipline. As agriculturists, you will soon take part in nation-building. Agriculture plays an important role in the Philippine economy. You are licensed to serve not to be served," Balisang said.
The graduates who took their oaths were from Capiz State University (Pilar, Pontevedra, Bailan, Burias, Tapaz, and Dumarao campuses), Iloilo State College of Fisheries San Enrique and Dingle Campuses, University of St. La Salle, Negros Oriental State University, Northern Negros State College of Science and Technology, University of Negros Occidental- Recoletos, La Carlota City College, Northern Iloilo Polytechnic State College (Batad and Btac. Viejo campuses), Aklan State University – Banga, West Visayas State University (College of Agriculture and Forestry and Calinog campuses), University of Antique- Hamtic, Central Philippine State University (Main and Kabankalan City campuses), Guimaras State College, Central Philippine University, and Romblon State University (MIMAROPA Region). ### (via SMHToreno/DA-RAFIS 6)