Cadiao distributes incentives of ₱12,000 each to 1,800 Antique BHW, BNS
Governor Rhodora "Dodod" Cadiao distributed the annual incentives to more than 1800 Barangay Health Workers (BHW) and Barangay Nutrition Scholars (BNS) on Monday, December 12 at Binirayan Gymnasium.
These health volunteers received Php 12,000 each with a total amount of Php21, 648,000.00 released by the Provincial Government of Antique.
In her message, Governor Cadiao said that when she sat as the governor of the province last 2015 the annual incentives received by the health volunteers ranges from 1500 -2000 pesos only.
"Wara gid ako nagsala nga nagpromisa ako kaninyo nga masaka ang inyo incentives kada tuig. Kay, tungod kaninyo na overcome natun ang atun problema sa Covid kag sa ano man nga mga kalamidad nga naga-abot sa atun probinsya tungod sa inyo bulig," Governor Cadiao said.
It is already stated in the Provincial Ordinance 2019-174 which was approved and supported by Governor Cadiao and the Sangguniang Panlalawigan the increase of annual incentives from Php 2,000 per year to Php 1,000 per month or Php12,000 annually. It is also stated in the said ordinance that the BNS and BHW are protected by undue termination.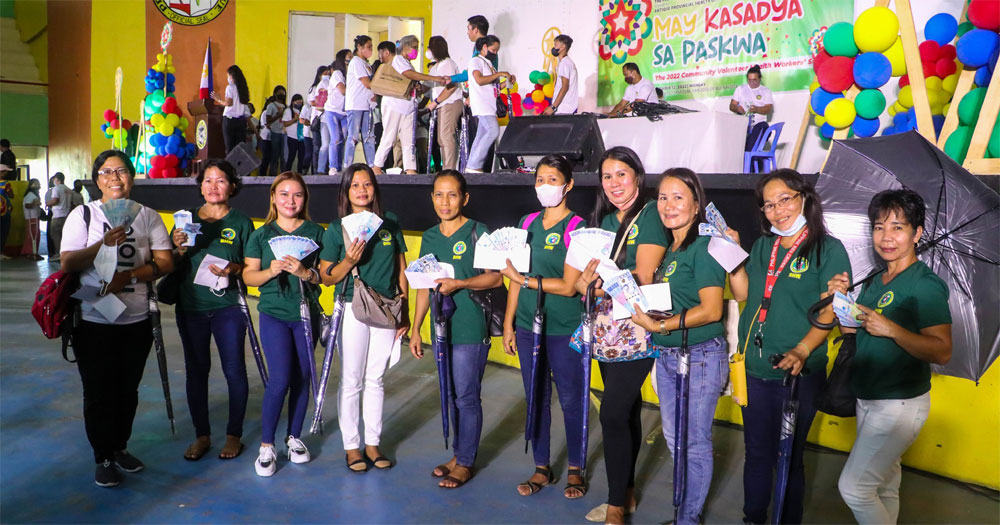 "Hoping for a good future to your family. Kon matapos ang akun termino as Governor, kabay pa sa nga masunod nga gobernador hindi ninyo pagpabay-an ang atun BNS kg BHW," Governor concluded.
Ma. Mildred Visuyan, BHW from Brgy. Buluangan I, Valderrama relayed her gratitude to provincial government through Governor Cadiao. According to her, she started as Barangay Nutrition Scholar last 2010 where in the incentives was not that high compared to this year. Mildred also added that the incentives she received would be a great help for her family.
Ma. Cristina S. Barrientos BNS from Brgy. Malabor, Tibiao Pandan also thanked Governor Cadiao and the provincial government.
Vice Governor Edgar Denosta together with the Sangguniang Panlalawigan members also assured that they will continue to support programs and services which are beneficial to the Antiqueño people.
Sangguniang Panlalawigan members who were present during the 2022 Community Volunteer Health Workers' Summit were Mayella Plameras Ladislao, Karmila Dimamay, Alfie Jay Niquia, Noel Alamis, Dr. Egidio Elio, Atty. Emmanuel Palacios, Dante Beriong, and Victor Condez together with LNB President Pamela Azucena and SK Federation President Mark Canja.